We all could use a little extra freezer space. The standard freezer on most refrigerators doesn't have nearly enough room for a whole family or food prepping. People are checking out Home Depot chest freezers to find the storage they truly need.
When it comes to finding the chest freezer of your dreams, where do you even start? When it comes to upright and chest freezers, there has always been a battle over which is better. We're here to clear the air on why a chest freezer could be right for you.
So if you're ready to find the best Home Depot chest freezer for your home, look no further! We're here to walk you through all the best options.
Why You Should Consider a Home Depot Chest Freezer
When it comes to freezers in general, chest freezers are the way to go if you have the room. They might take up more floor space, but you will be able to pack those bad boys to the brim.
When you buy a new Home Depot chest freezer, you'll be purchasing something that will last anywhere from 15 to 20 years. Talk about a good investment.
With that in mind, we want to explore all the perks of a Home Depot chest freezer.
Related Read: Freezer vs. Deep Freeze: The Differences You Need to Know
Storage space
You can find a Home Depot chest freezer in a huge range of sizes. That includes freezers that are 1.5 cubic feet to nearly 25 cubic feet and every size in between. You will certainly be able to find one that fits your home.
With a chest freezer, you are making the most of your space. Many of the large freezers have anywhere between one and four sliding baskets. There are also a ton of organizational ideas to help keep your chest freezer in order.
Upright models are easier to keep organized, but the shelves can be as limiting as they are helpful. Bulky items may not fit, or end up taking up so much room that it will limit the overall space available.
With a chest freezer, you won't have the same limitations, but it is incredibly easy to bury things.
Energy efficiency
Chest freezers are the most energy-efficient choice. They are far more economical than upright models, running you a fraction of the cost to use each month.
That makes a huge difference when the appliance is going to be running constantly.
Another huge perk is the fact that you lose less cold air when you open a chest freezer. If you've ever heard that "heat rises," you can expect the opposite is true for cold air.
Therefore, when you open an upright freezer, the cold air falls out. Constant use can make the appliance work overtime to keep your food cold, costing you even more.
Because of this, chest freezers also preserve your frozen food for longer during power outages. Even if you do open it during an outage, you won't lose as much cold air.
That isn't something most people have to deal with on a regular basis, but it's still a huge deal. An upright can keep your food for a day or two. A chest freezer can keep the food frozen for two to three days.
In case of an emergency, this is absolutely life-saving. Imagine having a huge freezer packed full and all the food goes bad in a power failure. All the money you spent stocking it is essentially flushed down the drain.
Related Read: The Best Chest Freezers on the Market
The Best Home Depot Chest Freezer Options
Now that you've heard some of the best aspects of chest freezers, it's time to dive into your options.
The main difference between most of these options will be the size. However, we will be breaking down each one so you can explore all the options.
Kalamera Compact Deep Freezer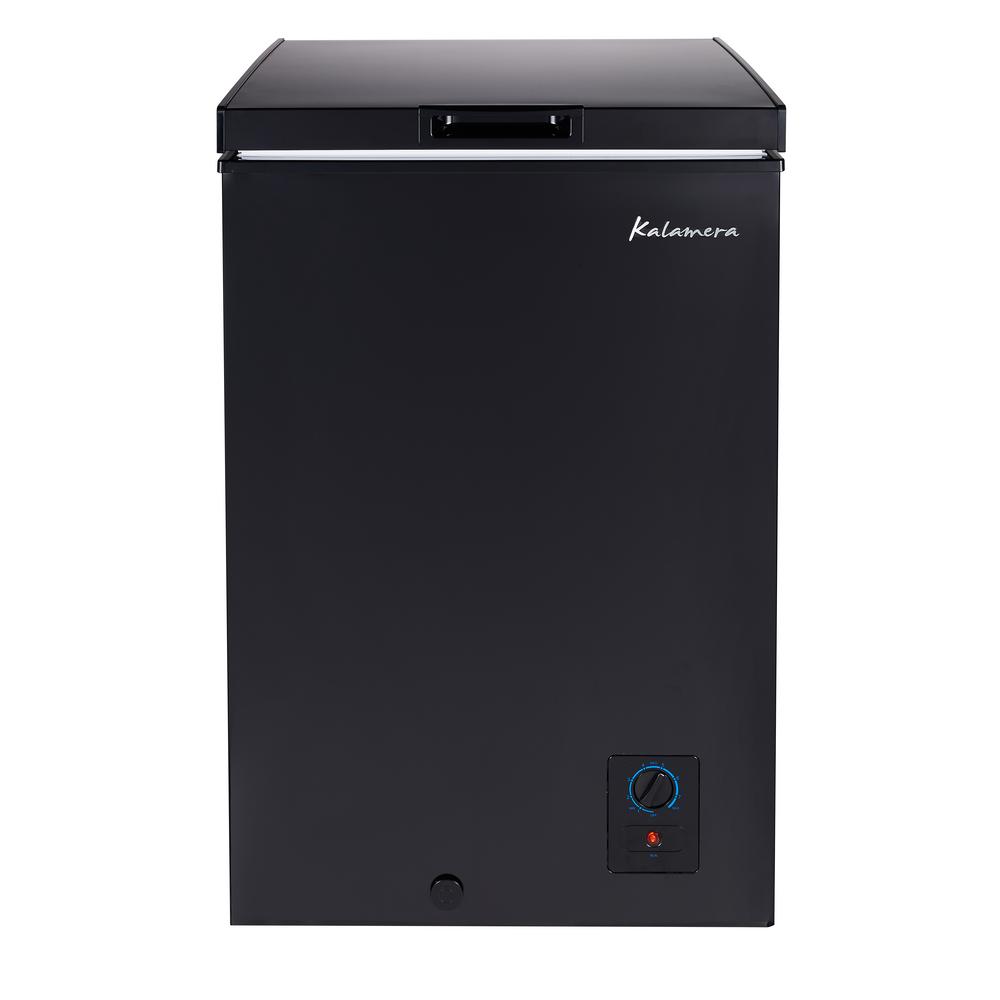 Buy on HomeDepot.com
If you're living in a small space, you probably want a compact freezer. Plus, if you're only one person, you probably don't need that much extra room. In those cases, a Kalamera compact deep freezer is perfect for you.
You get all the benefits of a chest freezer. You can store more frozen items and you have enough room to do food prep. Plus, it's much better for long-term storage.
This Home Depot chest freezer in particular is a wonderful option for anyone on a budget. It has 3.5 cubic feet of freezer space, has a small organization basket, and is incredibly quiet.
Elite Frost Free Portable Freezer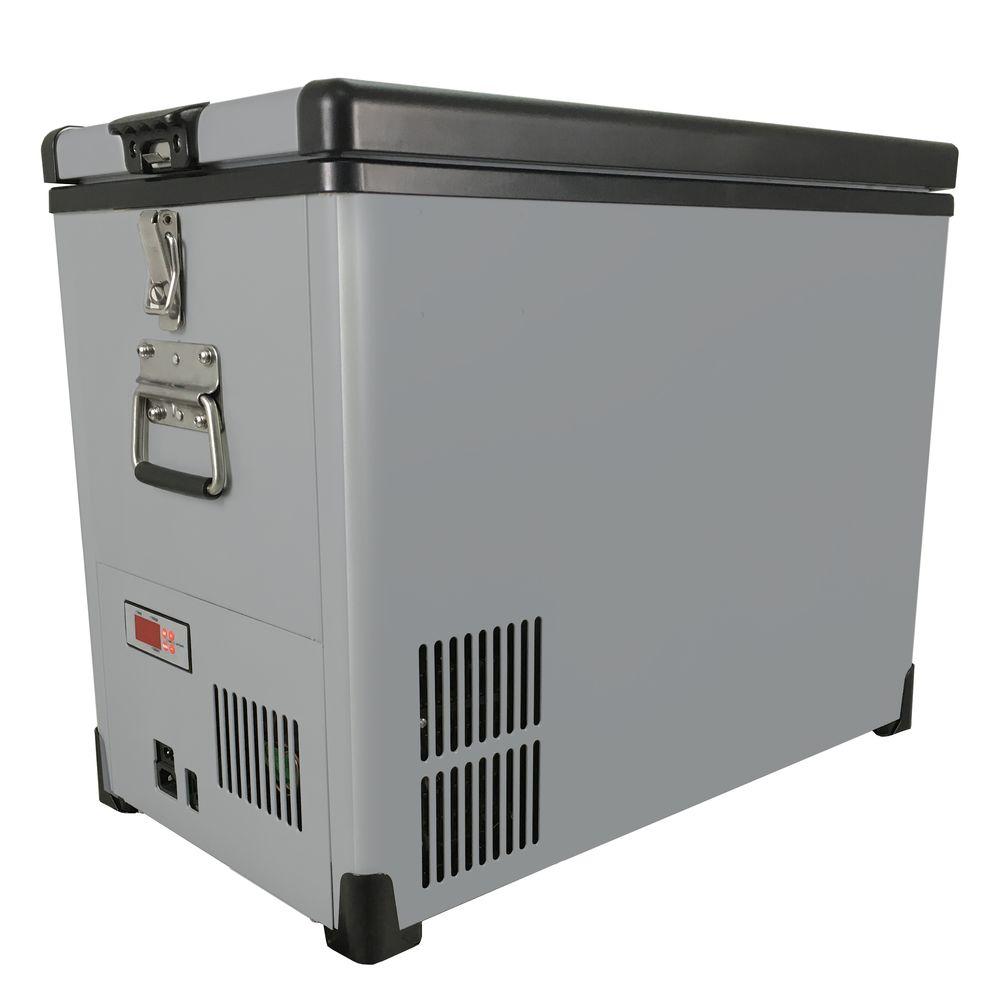 Buy on HomeDepot.com
If you're constantly going on trips, you might think that coolers are your only option. Believe it or not, there is a portable chest freezer that is perfect for trips.
The Elite portable freezer is small, durable, and perfect for RV's and camping in general. It has 1.5 cubic feet of freezer space, so it is small, but that makes it perfect on the go. You can plug this freezer into 12-volt outlets, which are available at many campsites.
Plus, when you aren't on the go, it makes a perfect little freezer for treats. That way you can keep the kids from constantly opening the main freezer when grabbing popsicles and ice cream. It will actually help in the long run because it will be easier to avoid freezer burn.
Related Read: What is Freezer Burn? Thawing Out the Answers About Your Frozen Foods
Moreover, if you do take it on trips, you can use it as a refrigerator if that suits your needs better. The temperature can be adjusted from -8 degrees to 50 degrees!
As far as chest freezers go, this is by far the most compact and convenient. However, it is not ideal for anyone looking for a lot of storage.
Vissani Chest Freezer
If you are looking for more space, Vissani has something for you. Their chest freezer is straightforward and has 7 cubic feet of freezer space. It's a popular mid-range size that won't take up a whole lot of floor space.
It has an exterior adjustable thermostat with an interior LED light. That makes it ideal for your garage.
Moreover, it is suitable for any place that can range between 0 degrees and 110 degrees. Unless you're living in an extreme climate, this model should be perfect for your garage.
However, it is small enough that you could fit it in your home as well. It's only about 66 pounds, so it won't be hard to get down into your basement.
The only drawback here is the fact that it doesn't come with any organizational baskets. So you might want to get some if you want to easily reach smaller items.
Premium Chest Freezer with Curved Glass Top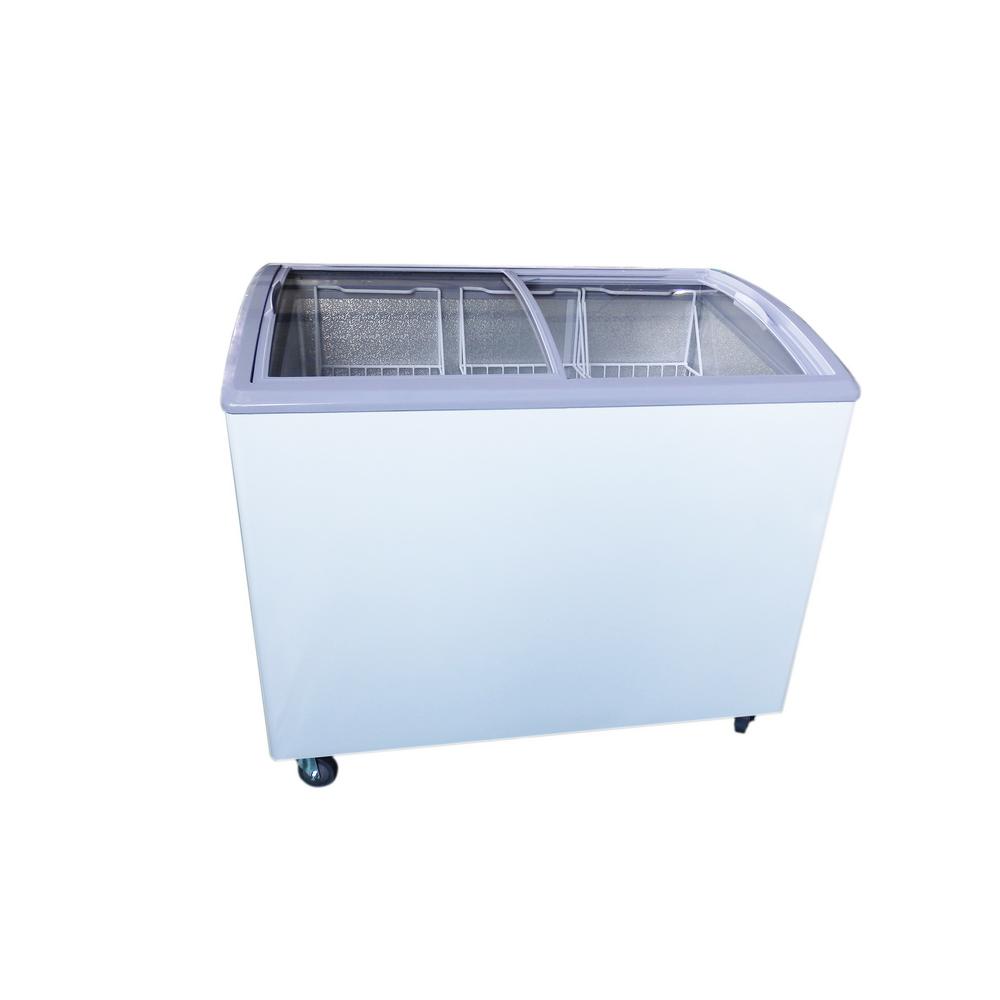 Buy on HomeDepot.com
If you're interested in finding a small chest freezer for your business, a glass top is preferable. This premium chest freezer is perfect with its easy sliding curved glass top.
This appliance has 7.4 cubic feet of space, so it is on the smaller side. It is also listed for commercial use, so it is fabulous for any business. There are three organizational bins inside to help you separate items as well.
Another thing to mention is the fact that the temperature dial is on the back of the freezer. So no one can change the settings without you knowing it. It is also extremely quiet, conserves energy, and is lockable.
While this is a fantastic option for a business, this freezer would also be great in your home.
Just think about how many times you have been trying to figure out what to make for dinner. With a glass top freezer, you don't have to stand with the door open to take inventory for dinner ideas!
GE Garage Ready Chest Freezer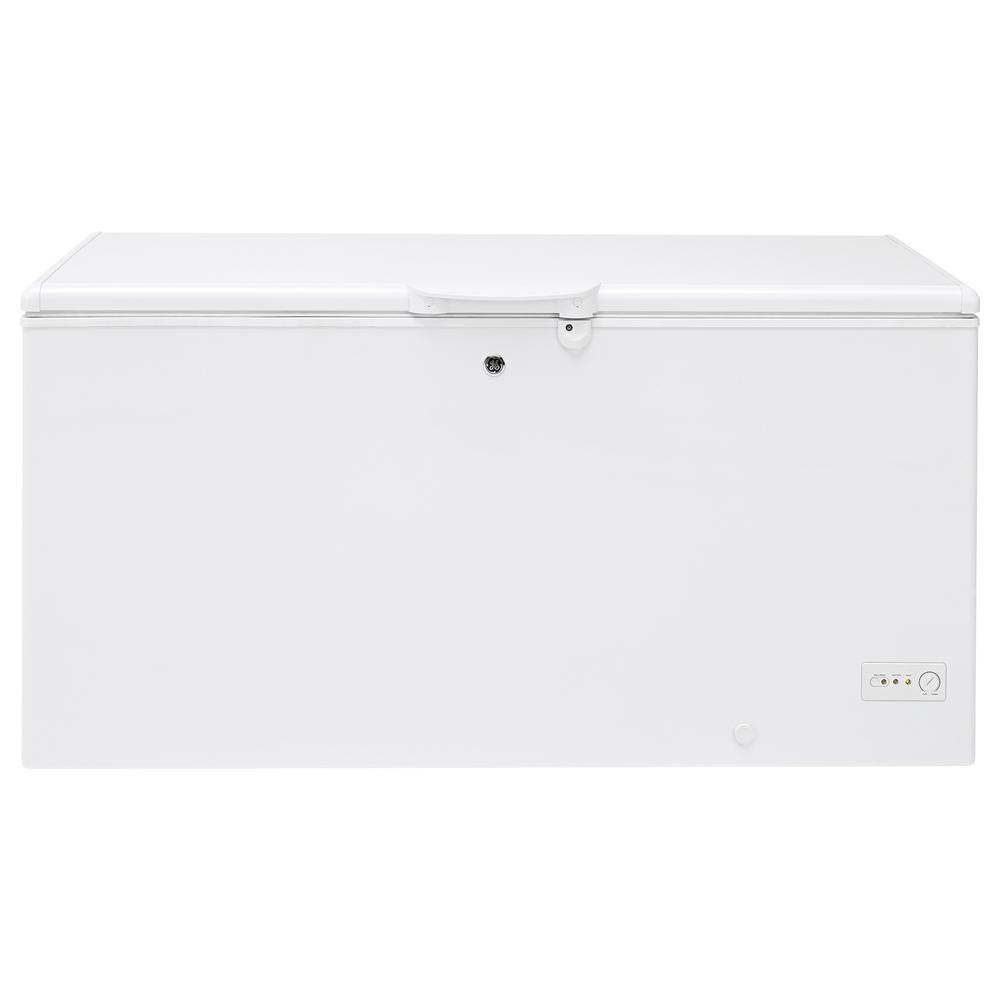 Buy on HomeDepot.com
If you're looking for a lot of extra space, you're going to want to check out the GE chest freezer. This particular option has 15.7 cubic feet of freezer space, which is double most of the other options on this list!
It comes with four sliding organizational baskets. There is also more than enough room for large items.
If you're a hunter or prefer buying your meat in bulk, this is going to be a fantastic freezer for you. It's going to be much easier to fit roasts, hams, turkeys, or any other bulky items.
So if you find a great deal on any food that you can freeze, this option could save you a ton of money.
It's also ideal for anyone that likes to meal prep or preserve food from their garden. Plus, it's much easier and more cost-effective to freeze, rather than canning every item.
Frigidaire Chest Freezer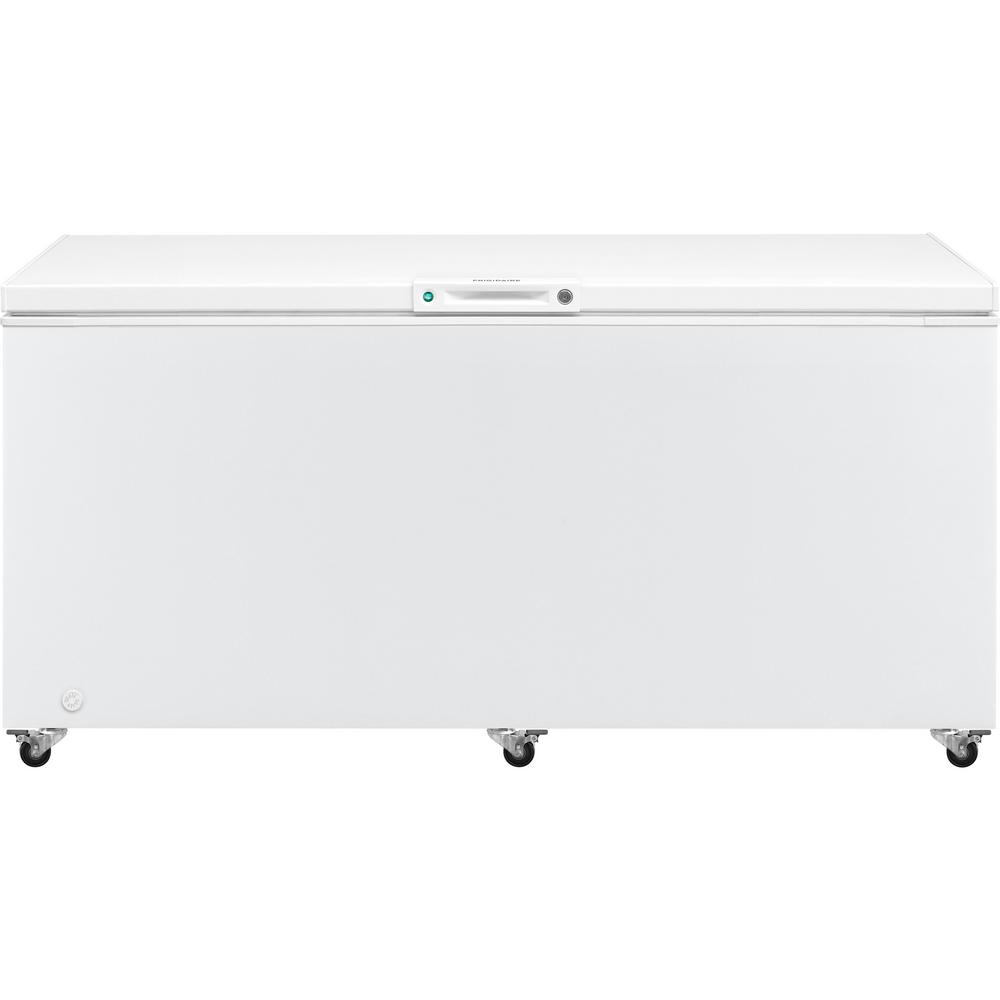 Buy on HomeDepot.com
If you're on the hunt for an absolute mammoth of a Home Depot chest freezer, you've found the right one. This Frigidaire chest freezer has 24.8 cubic feet of freezer space. It also has two storage baskets and a lock.
Some people might think this is a ridiculous amount of room. Who could possibly need that much freezer storage? But if you have a large family or bargain shop, you certainly can see the value here.
The same goes for hunters, farmers, or food preservation in general. If you are trying to live off the land, freezing is much simpler than canning. This freezer will give you the ability to freeze meat and vegetables and focus on canning your jellies and jams.
You are going to want to consider floor space with this bad boy since it is nearly seven feet long. It's also 220 pounds, so getting this up and down the stairs will be an ordeal. However, it does have wheels, so you will be able to move it to clean under it.
Unique Propane Chest Freezer
If you're looking for a Home Depot chest freezer for trips off the grid, we've got something for that too.
The Unique propane chest freezer runs on either propane or electricity. So if you need to freeze some meat or fish at your hunting cabin, this is an option even without electricity.
The Unique chest freezer has 6.0 cubic feet of freezer space. That should be more than enough room for a vacation home, hunting cabin, or home freezer.
If you're wondering about the fuel consumption, this model uses 1.8 pounds of propane in a 24-hour period. So you can do the math to figure out how much you will need when you're running it on propane.
Overall, this is such a versatile appliance. It's ideal for someone who deals with a lot of power outages during hurricanes or general bad weather.
Time to Find Your Favorite Home Depot Chest Freezer
Overall, there are so many different chest freezers on the market. Most of the differences have to do with the brand name and size. They don't have a huge number of features to set them apart.
We tried to find a variety so that you could find the one that suits your needs the best. Whether you only need a little bit of extra space or a ton of room we've got you covered.
If you have a chest freezer or plan to make a purchase, let us know. We would love to hear about your favorites in the comment section below!