Are you thinking of adding a second freezer to your home, you want to pick one that has enough room and one you can rely on to keep your food cold. Frigidaire is almost synonymous with quality, so it makes sense to look at their line. But are they the best for you? Here we look at Frigidaire's FKFH21F7HW model and its competitors so you can make the best choice.
It is large enough for all of a family's refrigeration needs. Too much ice cream or frozen venison in your standard side-by-side or upright? The FKFH21F7HW is just the sort of home appliance to consider investing in to clear up space in the kitchen for frozen foods that you need on a daily basis.
Imagine a freezer in the kitchen, free of all signs of that six-month-old frozen vegetable soup from Aunt Betty that no one is ever going to have the courage to reheat. Free from that frozen deer meat from last November (or from the year before!), and free from all those frozen Brussels sprouts, peas, and gallons of ice cream. The FKFH21F7HW might very well be the solution you are seeking to remedy your jammed-packed freezer.
Unfortunately, the FKFH21F7HW is no longer in production, so you may have difficulty locating one. But if you do, you'll probably save yourself a lot of money off its original cost.
The Frigidaire FKFH21F7HW Freezer
Frigidaire is one of the most prestigious names in the home appliance industry. Not only have they been around for decades, but they are also in more American homes to this day than many home appliance brands. The Frigidaire brand is one of a few well-trusted American brands. Its reputation and standards of excellence give consumers little reason to question where quality is concerned.
The FKFH21F7HW, in particular, is a highly rated model by Frigidaire. The main issue with it is that Frigidaire doesn't manufacture this model anymore. That said, there are still many brand new units on the market (let alone used and refurbished units) available. Even though it is becoming a somewhat dated product for the brand, many Frigidaire customers still currently own the FKFH21F7HW model freezer because of its high quality.
Full specifications
The full physical dimensions of Frigidaire's FKFH21F7HW include a width of 32 inches, a depth of 32.125 inches, and a height of 71.25 inches. It's rather large, with a roomy 20.5 cubic feet interior capacity. As far as basic features, it comes with tiltable wire door baskets, space-wise shelving, and a host of cutting-edge functions and features.
Additional significant features of the freezer include automatic alerts if the door is left open by accident or if the temperature begins to rise, frost-free operation, pop-out key and lock, bright lighting, and a bunch more. The freezer also automatically locks when you close it, so you never have to worry about kids accidentally getting themselves trapped inside (or stealing your ice cream.) The freezer also comes with quick-freeze technology, making whatever you store stay fresher for longer.
The FKFH21F7HW is Energy Star rated, so, in other words, it should reduce or match your current power usage instead of costing you more. It has a large capacity, giving you room to store more than other freezers. It also gives you shelves, baskets, and door storage for the superior organization of your frozen goods. Furthermore, ready-select controls with an upfront display offer easily selectable options via a single button, making the freezer incredibly user-friendly.
Frigidaires New Alternative to the FKFH21F7HW
For those who don't own an FKFH21F7HW already, the manufacturer has a new alternative that is an excellent alternative. They are newer to the market, more accessible to procure, and parts are more readily available as well (in comparison to the other model). So, that said, the FFFH21F6QW could be the freezer to look into.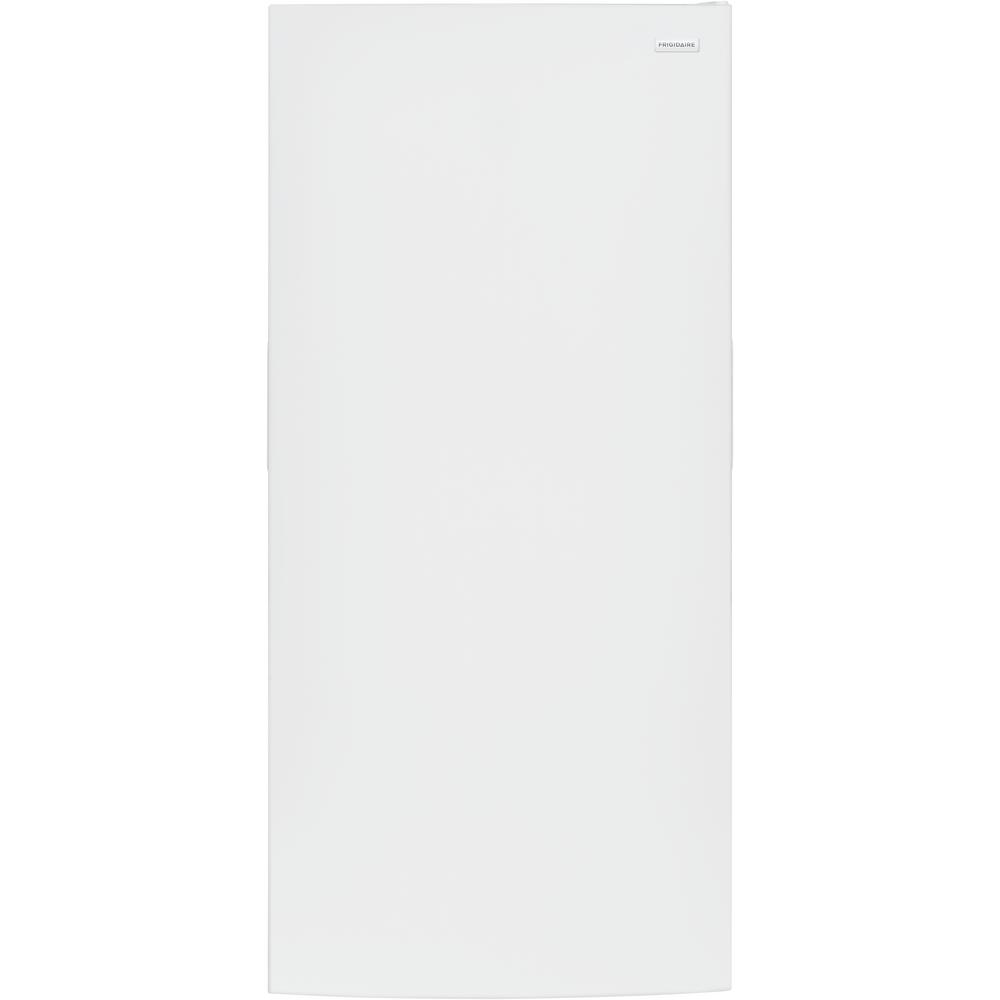 How We Reviewed
To bring you the most honest and accurate review of the FKFH21F7HW freezer, we performed dedicated and in-depth research on the unit. We started with the major retailers and the manufacturer's site, where we looked at the product's description, customer reviews, ratings, complaints and more. We also visited home appliance forums, review sites, and retailers to search for additional information including product reviews and ratings.
RELATED READ: The Frigidaire FFFC11M4QW Chest Freezer: Is It Still Worth Buying?
What we discovered was more than enough to craft this up-to-date and realistic review of the FKFH21F7HW for our audience. You can think of these other freezers as adequate alternatives.
How Does the FKFH21F7HW Compare to Other Brand Name Freezers?
To create the most excellent review and buyer's guide possible, we decided to compare the FKFH21F7HW to significant competitors and see how it faired. So, we took three freezers from big name appliance brands and stacked them up against another, as well as our reviewed freezer. We think you're going to be intrigued by what we found!
GE FUF21SMRWW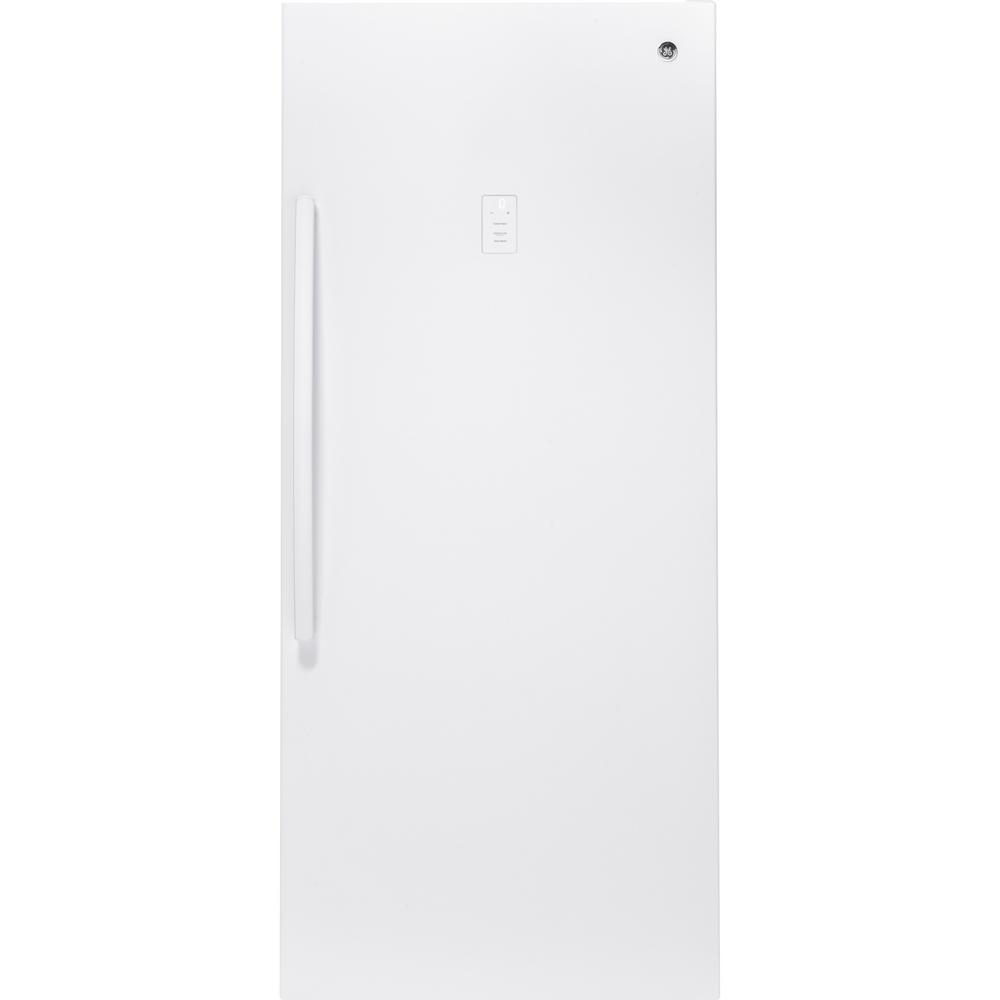 This 21.3 cubic feet General Electric freezer is available online via
Home Depot
. It comes with all of the standard trimmings of a name-brand upright freezer. That includes LED interior lights and an audible temperature alarm. The freezer also has advanced features such as Turbo Freezer — a feature which keeps your frozen goods colder for a more extended period. In comparison to the Frigidaire freezer, this GE is an excellent alternative due to its size, quality, and an array of features.
Maytag MZF34X20DW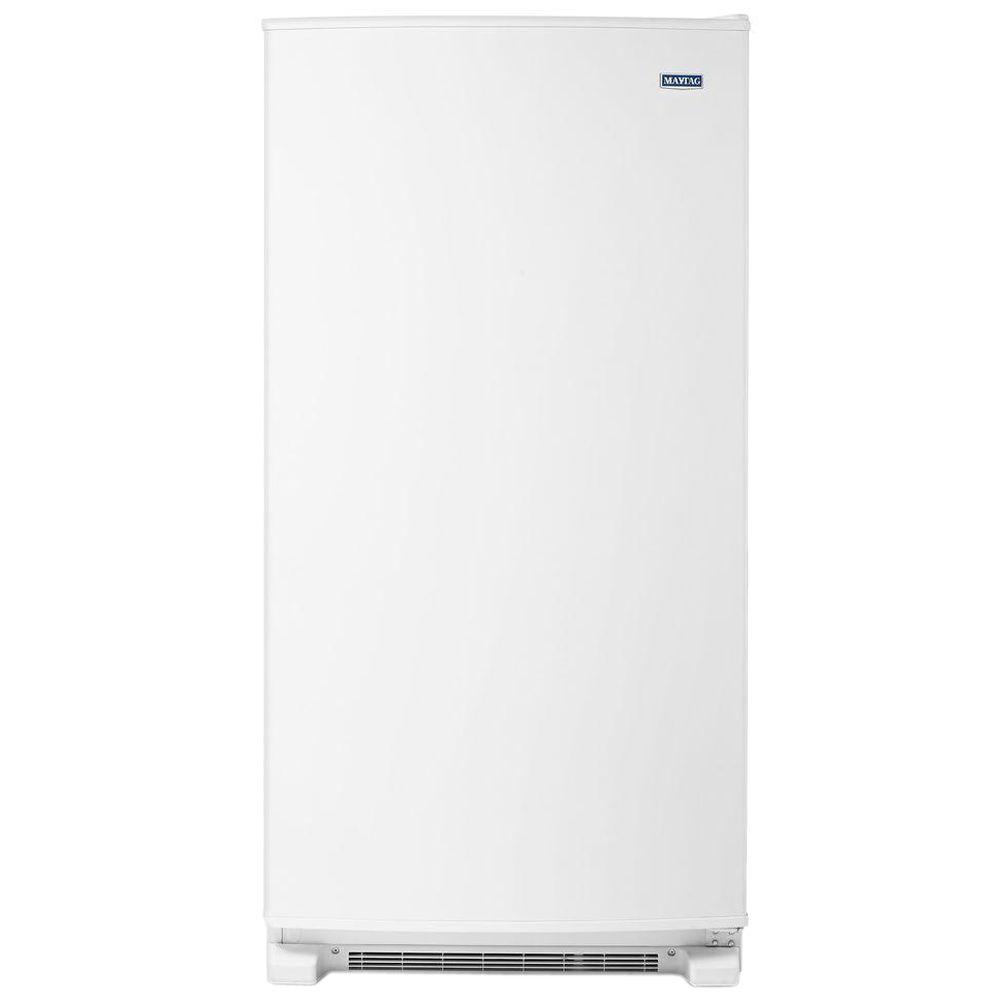 You can find Maytag's 19.7 cubic feet frost free upright freezer at
Home Depot
. Maytag, one of the better home appliance brands on the market, offers all of the best features. Temperature controls, interior LED lighting, frost-free operation, manual defrost, and more. It also comes with a Home Depot warranty of up to three years as well as a 10-year limited warranty for compressor parts. This Maytag is another great alternative to the Frigidaire, as it has incredibly similar features.
Electrolux EI32AF80QS
This 18.6 upright freezer from Electrolux is available in various store and you can see where on their website. However high the price tag may be, Electrolux's value is well worth the cost. This particular freezer comes with all the bells and whistles you could imagine on such a unit. That includes an automatic ice maker, full-width smooth gliding freezer drawers, ice-free operation, temperature controls, and much more.
Pros and Cons of the FKFH21F7HW
Now that we've talked about all of the most significant aspects regarding the FKFH21F7HW, it's time for a recap of the major pros and cons. As with all home appliances (and just about anything else in life), there are advantages and disadvantages to each specific model of the freezer. Here are the biggest pros and cons of the FKFH21F7HW.
Pros
The advantages of owning the FKFH21F7HW (or alternative models that are still in production) are vast. First of all, the freezer holds up to 710 pounds of food. That's almost enough room to fit a grizzly bear! Second, the freezer has several great benefits such as Polar Freeze, Door Ajar and various temperature alarms, and frost-free design. Lastly, the unit also comes with several shelves, basket, organizers and more.
Cons
The most significant disadvantage of the FKFH21F7HW is that it is no longer in production. So, it can be a bit tricky to get ahold of. If you do happen to get your hands on it, you will more than likely have a hard time finding replacement parts as time goes on. That means, if you have one, buy replacement parts now while they are still available!
A Final Word About the Frigidaire FKFH21F7HW
Whether or not the FKFH21F7HW is the right freezer for you or not depends on several factors. These aspects include how much space you need for storing frozen goods and many other factors. Also, be sure to consider how much space you have available in your home to store the freezer itself. If you're looking for something large enough to hold hundreds of pounds of food, look no further than the FKFH21F7HW or one of the alternatives mentioned above!
Do you own the FKFH21F7HW freezer or an alternative? Feel free to share with our audience in the comments section below.
Happy freezer hunting!