Either you have too little space in the freezer, fridge, or both. The Frigidaire FKCH17F7HW freezer/fridge combo might resolve one or both of these issues for you. There are many times when you don't stock up on food for the household because you don't have space. Or, you want to buy things that are on sale, and can't, because the freezer's full. A freezer/fridge combo is an excellent solution to your problem.
You can adjust the temperature to accommodate the foods and drinks you want to store. Don't let hundreds of dollars of food go to waste, reconsider the way you save foods instead.
Benefits of a Freezer/Fridge Combo
Homeowners who have to throw food away frequently or have a large family know the challenges in choosing new appliances. A freezer/fridge combo affords owners the versatility you need in your home. Owners can easily convert the settings to adjust the product as a freezer or a refrigerator.
Consumers can also dedicate it as either a freezer or refrigerator in their home. If necessary, they can buy a second freezer (or fridge) for a low price. There's plenty of versatility in owning a product like Frigidaire's FKCH17F7HW. Regardless of how families plan on using it, this product is an excellent addition to any household. It can save plenty of money by avoiding spoilage/waste and increase storage capacity, for large families.
Frigidaire FKCH17F7HW Freezer/Fridge Specifications
Of course, consumers want an efficient freezer/fridge and one that provides sufficient storage for their family's needs. Some specifications of the Frigidaire FKCH17F7HW that distinguish it from competitors include:
The model is 17 cubic feet with adjustable temperatures for freezer/fridge food storage needs
It possesses the ENERGY STAR Certification, meaning it is efficient and doesn't cost much to operate
The combination model has a reversible door hinge so that owners can fit it into any kitchen space
It's an upright freezer with adjustable feet
It has a door-close assist feature
It's 32 inches wide, 29.5 inches deep, and 65.9 inches tall
The FKCH17F7HW freezer/fridge combo also weighs about 210 pounds. Consumers should consider these specifications accordingly, to determine if they have space in their kitchen.
FKCH17F7HW Freezer/Fridge features
This Frigidaire FKCH17F7HW freezer/fridge combo model has an ENERGY STAR certification. So, owners don't have to worry about high electricity consumption costs with this model. Homeowners can also maximize storage to fit their family's needs accordingly.
It comes with three glass shelves that are adjustable and two crisper bins at the base. The door can also hold multiple items and has room to store gallon containers. The adjustable temperature controls allow owners to convert the unit into a refrigerator easily. The electronic controls also help maintain appropriate temperatures for food safety. To round out the list, a bright, 40-watt bulb, allows owners to see what's in the freezer/fridge.
When comparing freezer/fridge combos, consumers want a product that offers more storage capacity and internal features. Some of the attributes that the Frigidaire FKCH17F7HW affords its owners include:
A frost-free operation
Flexible storage options, with adjustable shelves and ample storage bins
A convenient switch makes it easy and quick, to turn from a freezer to a refrigerator when necessary
The reversible door allows consumers to place the product in any corner/location that fits their kitchen space
Easy care and maintenance with the same interior/exterior color scheme
Temperature alarms, adjustable legs, and adjustable temperatures from -10 to 10 degrees Fahrenheit
The freezer/fridge combo is also in the CSA certification listing and includes a one-year limited warranty. Families needing more space for storage will appreciate the interior configuration of this model. It is easy to adjust accordingly, to fit and easily store, several items and avoid spoilage.
The average price of the FKCH17F7HW
The Frigidaire FKCH17F7HW is a discontinued model. Therefore, consumers who purchase it from third-party sites should remember they probably won't receive a warranty on the purchase through Frigidaire. The capacity and storage variety do set it apart as an excellent option for many families. And, the affordability in a competitive market, also makes it a good choice for many families.
How We Reviewed the Frigidaire FKCH17F7HW
We reviewed the Frigidaire FKCH17F7HW against another freezer/fridge combo models. In our review, we considered the internal storage capacity, freezing capabilities, and considered energy efficiency. We also relied on reports from specialty retailers, like Home Depot and Sears, to lay out product attributes and quality. Additionally, when reviewing competitors' products, we included customer reviews and ratings. This information provides consumers with all the details necessary to make the best decision when buying the appliance.
Comparable Freezer/Fridge Models
For those who prefer buying a freezer/fridge combo that's in production, rather than the FKCH17F7HW , there are several alternatives. These are some of the best products to consider when shopping for a freezer/fridge combo.
Insignia Upright 17 Cubic Foot Combination Freezer/Fridge
This combination freezer/fridge is comparable to the FKCH17F7HW Frigidaire model as it is also 17 cubic feet. However, this model features a stainless steel exterior. It also has built-in wi-fi. This feature allows owners to connect their devices, and take advantage of the product's attributes. It has two crisper drawers and four adjustable shelves. The product also has adjustable feet and electronic controls. These properties allow owners to change the temperatures remotely and reduce the product's height in a tight kitchen space.
There's a fast freeze setting on this model also. This feature allows owners to freeze foods in less time, by decreasing interior temperatures quickly. There are four compartments on the door as well, allowing owners to store small items like bottles or condiments. The mobile app will enable owners to adjust the temperature settings also easily. And, the Energy-Star Certification ensures low operational costs annually. Homeowners don't have to worry about a high electric or utility bill when operating this unit in their home.
Some reviewers do indicate that there are issues with the app. This drawback limits the usability of this feature, and the ability to adjust temperatures remotely. The door is also tricky to open. It has a tight seal sometimes causing the door to jam. This design helps maintain cold temperatures internally. However, the seal causes the door to stick occasionally, requiring more force to open and close it.
Frigidaire FFFH20F2QW 20 Cubic Foot Combo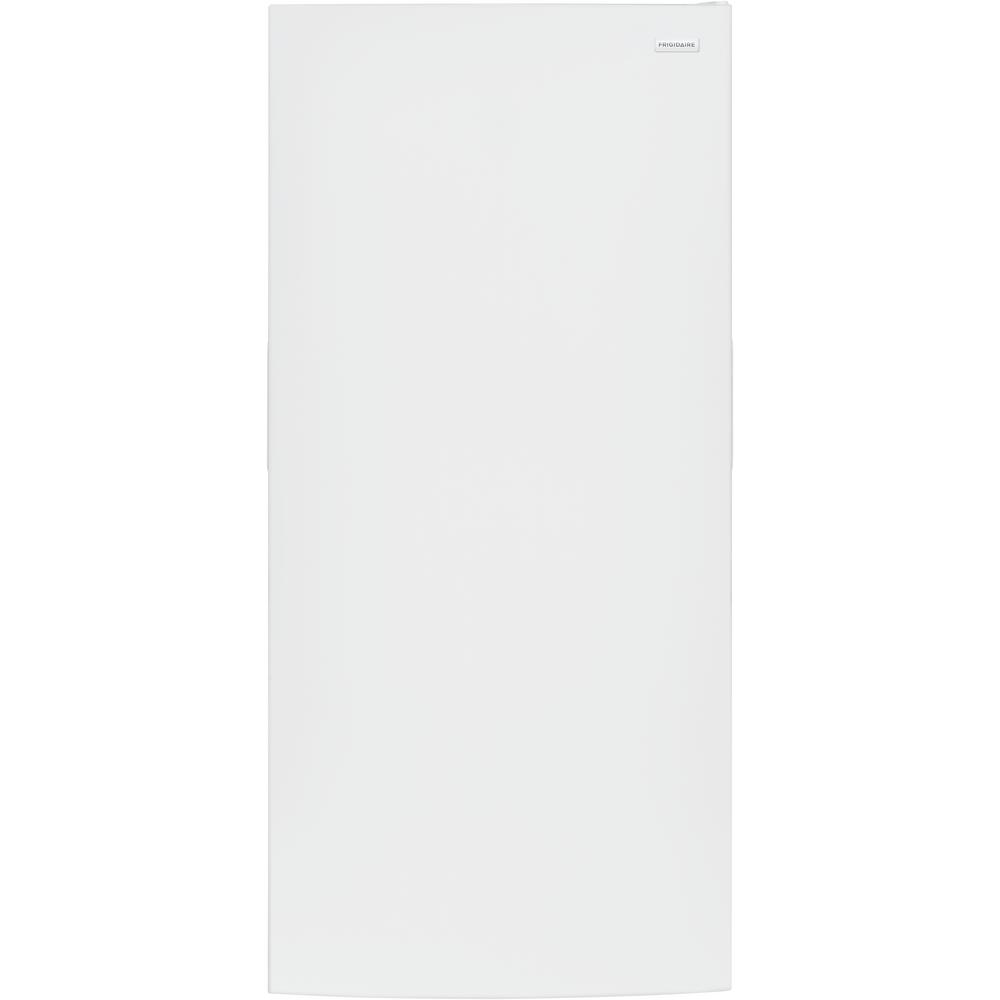 This
ENERGY STAR rated freezer/fridge
features 20 cubic feet of interior storage space. A bright LED light allows owners to see what's inside without too much digging easily. A frost-free operation also means there's no need to defrost foods that are in the freezer for too long. A power light indicator informs owners if the freezer or fridge setting is on. This feature alerts owners if they have to adjust temperatures, to keep foods from spoiling.
There's also a lock with a pop-out key on this freezer/fridge combo product. When the door locks, the freezer key ejects. This feature is excellent if there are kids in the home. Parents can keep them away from certain foods they don't want them eating. The upright model is great in tight kitchen spaces. This product also has a reversible door hinge. It fits easily into any kitchen space or tight corner if the area if small. There are six full-width door bins, four wire shelves, and one removable trivet. This layout also allows owners to easily adjust internal configurations, to fit in any item easily.
Some reviewers indicate there are issues with the operation of this product. After only a couple months of use, this reviewer notes the product did not work any longer. Some reviews also indicate very high noise levels when the freezer is on. This issue can lead to higher energy use than when it is in the fridge mode.
Whynter 13.8 ENERGY STAR Digital Upright Combination Model
For those who have a smaller kitchen or space, this is a great freezer/fridge combo to consider. It has the ENERGY STAR certification and also a stainless steel exterior. This product blends in well to any kitchen and decor the homeowner has in place. It's efficient, and built-in insulation helps maintain the right temperatures consistently. The frost-free design means there are no defrosting foods after owners take them out of the freezer. Storage baskets and adjustable shelves, make it easy to fit multiple items in the product quickly.
Freezer door racks and sliding cabinets are great areas for storing items in this product. The freezer mode goes down to as low as -11 degrees up to 10 degrees Fahrenheit. For the refrigerator, owners can adjust temperatures from 35 degrees to 46 degrees Fahrenheit. There's also the quick-freeze setting on this product. This option allows owners to freeze foods down to -11 degrees if necessary quickly. The product also features the UL Certification. A full, one-year, manufacturer warranty also comes with the purchase of this freezer/fridge combo.
Kenmore 20.2 Convertible Freezer/Refrigerator Combo
This product has a 20.2 cubic foot capacity which is more massive than the Frigidaire FKCH17F7HW model. The 2-in-1 design gives owners flexibility in storage. They can easily adjust from freezer to fridge, with the touch of a button to change temperature settings. Storage bins and a bright LED light allow owners to see what's in the fridge easily. The clear containers also make it easy to store smaller items. This design will enable owners to place smaller items in the bins to avoid taking too much space on shelves. Adapt-N-Store technologies allow owners to modify/adjust shelving inside the freezer/fridge.
The spill-proof glass is also a nice feature in this product. If there's a spill, it is easy to clean up by wiping the area off. No problematic clean up with this product. Adjustable temperature controls are easy to modify with the push of a button. Owners can easily adjust temperatures, depending on whether they're using the freezer or fridge mode. The storage on the doors is a nice feature for smaller items as well.
One reviewer indicates the concerns with delivery and setup of the product. They state they did not receive instructions for use and how to operate the model.
Is the Discontinued FKCH17F7HW Worth the Investment in 2018?
Although Frigidaire's FKCH17F7HW is a discontinued model, it provides several attributes consumers will appreciate. A massive 17 cubic foot capacity, energy efficiency, and a reversible door hinge are some distinct design characteristics. It is also an affordable option in a competitive industry, especially for its large capacity size. The Frigidaire name is one you can rely on when it comes to the quality and longevity. It also includes static cooling and multiple adjustable shelves. This feature allows you to modify the interior space, to your liking, to fit foods inside it accordingly.
If you're considering a freezer/fridge that's in production, the Insignia 17 Cubic Foot model is a great option. It features a stainless steel exterior, so it blends in well with any kitchen decor. The large interior storage capacity is also configurable to every family's needs. The combo has a bright LED light, lock features, and is Energy efficient. The quick-freeze setting is a nice feature also. It allows owners to adjust the temperatures quickly, to lower levels, to freeze foods if necessary quickly. The wi-fi app feature is also helpful. Owners can easily change temperatures remotely using their phone or smart devices.
There aren't as many varieties to choose from as a traditional refrigerator with freezer model. However, there a few products that stand apart from others, to consider when you're shopping for a freezer/fridge combo. Every family has limits when it comes to storing food in the freezer, the fridge, or both. With a combination freezer/fridge, you can quickly remedy these issues. When looking for the best model for your family, these are a few great products to consider.
Last update on 2021-09-27 at 12:25 / Affiliate links / Images from Amazon Product Advertising API