If you have a Frigidaire FFU175F5HW, we have some not-so-great news for you. The manufacturer discontinued the model, so if you love it and it breaks, you can't replace it with the same model. That is, unless you take on someone else's old freezer, which isn't the best idea. Instead, you want to research similar models to replace your freezer with when the time comes. Don't dwell on its dying months (or years), where it sounded like it was powered by a diesel engine, and the door creaked and never closed properly. Sure, you'll mourn its passing, but look on the bright side: now you can get a shiny new freezer!
When your freezer is on its last legs, there are usually tell-tale signs. You might notice there is more frost inside than food. In fact, some of your food items might become a part of the frost build-up, disappearing into a growing ice cloud as your freezer devours everything. Another sign is that your electricity bill is going up and up. This is because your freezer no longer turns off at its set temperature, and instead just keeps running. You'll know it's doing this because that motor will sound horrid. Then, when your freezer does kick the bucket, there will be a period of knocking. No, these aren't the freezer elves saying they want out. It's the motor finally quitting on you.
Your beloved Frigidaire FFU175F5HW is ready to be replaced.
The Glory Days of the Frigidaire FFU175F5HW Freezer
Your Frigidaire FFU175F5HW freezer was a great piece of hardware when it first came out back in 2011. It had great interior lighting, flexible bookend shelving that you could rearrange as needed, and an automatic alert that warned you if the door was open. At 16.6 cubic feet of interior space, it's a roomy upright freezer. Frigidaire spent 2012 marketing the FFU175F5HW, and by 2013 it was the company's best-selling freezer. But like all things, it was time for an upgrade, and in 2014 Frigidaire discontinued it.
Of course, that didn't stop you from buying it. But the problem with buying a discontinued freezer is that when it's time for repairs, there are very few parts available. The longer you wait, the less likely the parts are around, which drives up the price on the parts that you do come across. Also, the freezer is guaranteed to keep falling apart once it starts. Like that great Canadian band The Tragically Hip said: "Like boots or hearts when it starts, it really comes apart."
Specifications
This is why it's just best to replace your Frigidaire FFU175F5HW. But what will you replace it with? Well, you can find something similar, for starters. The Frigidaire FFU175F5HW had some decent specifications, so check them out and that will tell you what to look for:
Total capacity: 16.6 cubic feet
Height: 66 inches
Width: 32 inches
Depth: 27 inches
Shelving: 2 moveable shelves, 2 fixed shelves
Baskets: 1 bottom basket
Door racks: 5 (fixed)
Annual energy usage: 682-kilowatt hours
Frigidaire FFU175F5HW Pros and Cons
You should know better than anyone what quibbles the Frigidaire FFU175F5HW had, and where it excelled. You had yours long enough to become familiar with all of its little quirks. But overall, it wasn't a bad freezer. It's just old.
Pros
Simple, with no bells or whistles
Large space
Great interior lighting
Does what it's supposed to
EnergyStar rating
Cons
Pricey for what you get
Tends to break down quite a bit
Runs noisy
Which Freezer Can Replace Your Frigidaire FFU175F5HW?
Have you noticed how freezers today don't last much longer than a cell phone? When I was a kid, my siblings and I would play at our grandparent's house all the time. In their basement was an old steel fridge from the 1940s or 50s. It was big and heavy and had a rounded top instead of today's square. Also, inside was a box with a metal door. That was the freezer. This was during the late 1980s. The point of this story is that my grandparent's fridge and freezer from the Second World War was STILL running in the late 1980s! Today we can't get a fridge to last longer than a car battery.
So what should you replace your old Frigidaire FFU175F5HW with? You obviously want something of a similar size, and the interior lighting is a must. Also, it should last a lot longer than six or seven years, so a good warranty would be great. There are a few options to look at.
GE FUF17SMRWW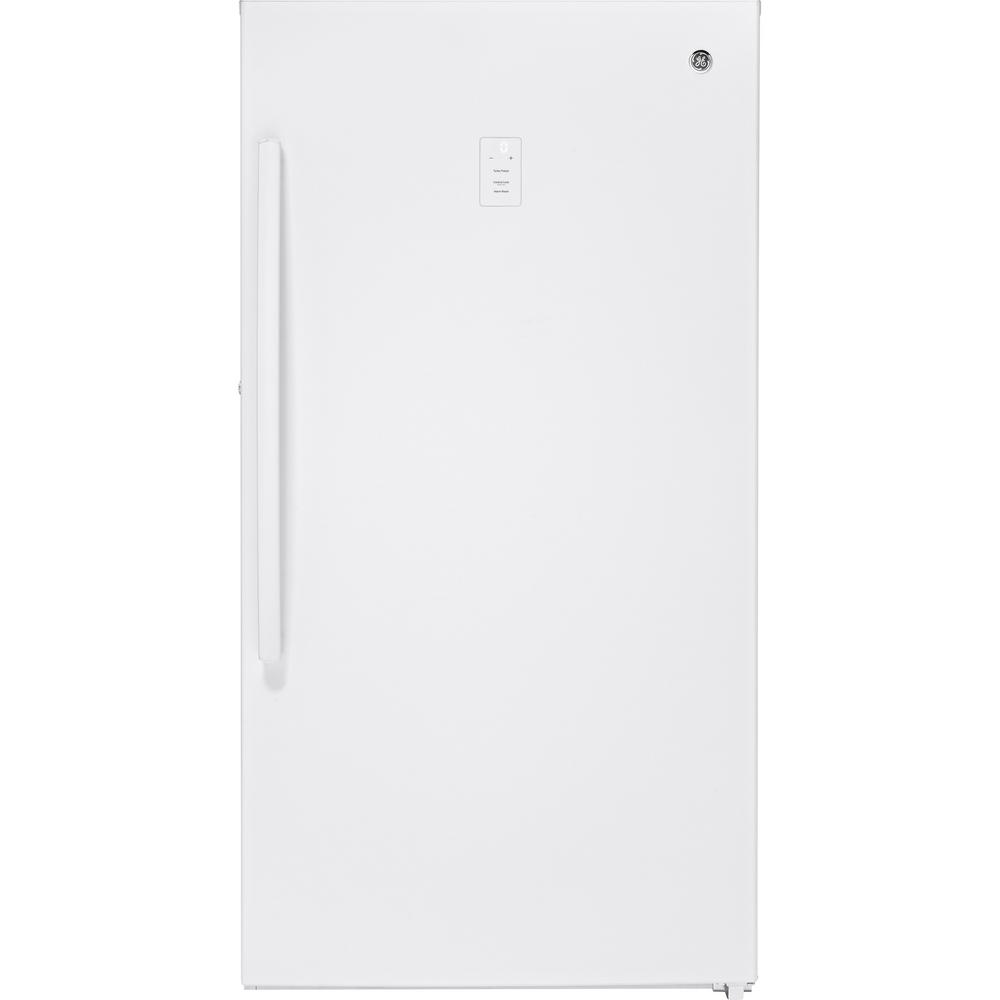 Buy at HomeDepot.com
Why not step away from the world of Frigidaire for a moment and consider a competitor? The
General Electric FUF17SMRWW
freezer is worth taking a look at. After all, it has the same all-white, tall, boxy look as the Frigidaire FFU175F5HW. Yet it's larger, with 17.3 cubic feet of storage space. You'll love that the temperature controls are located on the outside of the freezer, while there's lots of LED lighting inside. GE also has a "Turbo Freeze" feature which provides a boost of cold air for those hot days.
Make sure you can fit this slightly bigger upright freezer into your space, though. While it's shorter than the Frigidaire, it is wider and has greater depth.
Height: 64.75 inches
Width: 33 inches
Depth: 31.4 inches
Whirlpool WSZ57L18DM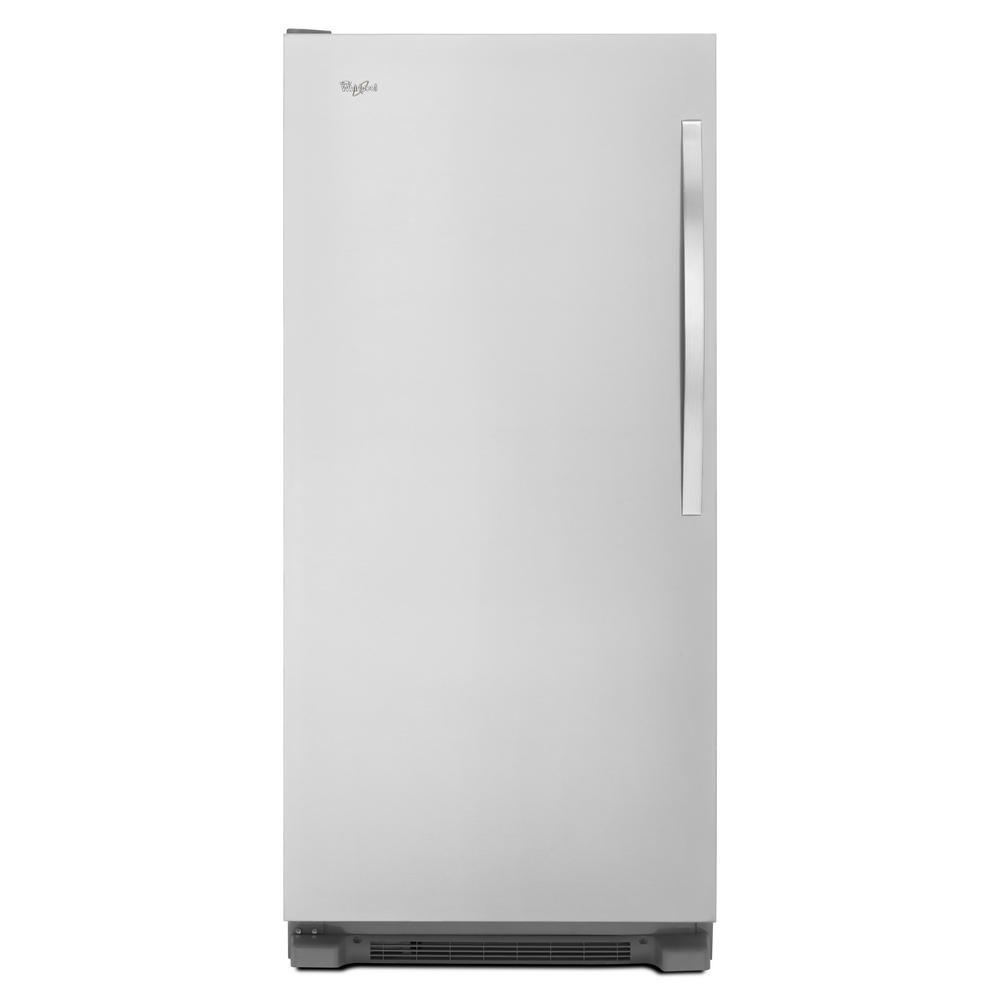 Buy at HomeDepot.com
Whirlpool also has a
decent freezer
that's close to the size of your old Frigidaire. What you'll like about this one is its modern stainless steel build. Nothing helps you get through the loss of a good freezer quicker than a new freezer that's better looking. Now, this thing is modern. It's frost-free, has several LED lights inside, electronic touch-pad temperature controls, a "door-ajar" alarm, and a smooth recessed handle that keeps out of the way. Also, there's Whirlpool's patented "Fast Freeze" technology, so the food you put in gets frozen quickly. Best of all, this freezer has a whopping 18 cubic feet of storage space but is the same size as the others.
Height: 66.75 inches
Width: 30.25 inches
Depth: 31.25 inches
Let's face it; this is a pretty freezer. It's almost a shame to put this stainless steel beauty in the garage or the basement, but alas, those are the best places for a freezer.
Are You Ready to Upgrade?
When that old Frigidaire FFU175F5HW freezer finally does die on you, will you be ready to go out and get a new freezer right away? If not, you'll need to figure what to do with all that food you've been storing in there. And do you really want to listen to that loud knocking noise at random hours of the day and night? Seriously, if your freezer is on its last leg, or if it has already croaked, then it's time to get out there and buy a replacement.