The majority of us already have a freezer in the home attached to our refrigerator. However, as families grow or the interest and convenience of buying in bulk expand, we quickly realize we do not have enough space for our frozen goodies. Also, matching appliances are often preferred leading many to find a matching black deep freezer.
However, there are so many options for deep freezers, and when facing the possibilities, many quickly realize there are various styles, sizes, and features never before considered. It can become overwhelming.
Black Deep Freezer: Let's Start From the Top
There are a couple of different styles of freezers to consider before moving on to the details.
You might consider an upright black deep freezer that sits like a refrigerator.
These tend to come with a higher price tag, but they are convenient for getting through doors and fitting into more narrow spaces.
Also, the insides have shelves, so you avoid the deep freezer abyss of lost pot pies and popsicles.
Next, you have chest freezers, which are energy efficient and block-shaped. These types of black deep freezers can hold a lot of food, and if you lose power, your food will keep a lot longer than the upright freezer options.
Plus, chest freezers are affordable and come with a plethora of options. However, you may have a problem with organizing the abyss, as mentioned.
Black Deep Freezer: All Things Considered
Next, in deciding with freezer best suits you, it is time to factor in your needs.
It is how big?
In determining the size of the deep freezer, you need to consider your needs.
If you have a large family, you may need one with more space. Also, if you seldom go grocery shopping and you meal prep well in advance, you might consider a black deep freezer with room for your meal prep work.
If you belong to a family that hunts or buys meat from a farmer, as we do, you might have to think about the seasonal needs of your deep freeze.
We live in a hurricane-prone area, and we do not want an entire deep freeze part of the year, so we must plan our stock-ups and purchases around the elements and the needs of those we feed.
Also, you need to evaluate the space you have available for a deep freeze. The chest freezers come in different size options, but knowing your available floor space will help you when you shop.
It is how much?
There are some very budget-friendly black deep freezers on the market, but you will want to consider up-front costs.
However, it is also fair to evaluate the long-term savings.
For instance, buying in bulk and meal prepping adds up to significant savings over the year.
Also, avoiding extra trips to the grocery store saves money by avoiding the impulsive shopping that often occurs.
Therefore, springing for an upgraded model might be worth it in the long run.
Did we lose power?
As mentioned, we live in an area hurricanes like to visit, and power outages are expected. If losing power is an expected issue for you, you might look closely at the chest freezers.
Chest freezers keep food very cold for longer and can spare you the unpleasant task of removing spoiled food.
I thought we had a bag of tater tots
The organization is likely one of the most significant issues with deep freezes. The upright options do better, but you need to consider how you can keep track of what you have if you opt for chest freezers.
Fortunately, many deep freezers come with internal baskets and storage bins. Also, there are after-market options to consider.
1. Gladiator Garage Works
If you want a freestanding upright black deep freezer, consider the Gladiator Garageworks option.
This deep freeze has a door you can hinge on either side of the freezer and includes an automatic defrost.
You won't have to worry about the door not closing all the way or popping open because it has a push pedal to open the door.
Also, the total capacity is almost 18 cubic feet. Inside, you have two large baskets to corral your oversized items, as well as some stationary and free-floating and adjustable shelves above.
The door itself has adjustable door pockets that allow you to stash away short and tall items without losing sight of your snacks.
This black deep freezer roles on sturdy casters and is 32.375 inches wide, 72.25 inches high, and 32.375 inches deep.
It is vital to note this freezer does not have an ice maker, nor is it compatible with an after-market ice maker.
2. Danby 7.2 cu. ft. Chest Freezer
If you need a black chest deep freezer, the Danby deserves a look.
This 7.2 cubic feet freezer can withstand temperatures up to 110 degrees, making it an excellent option for your garage or home.
Features include a manual defrost with the bottom of the freezer drain. Also, the thermostat and the drain are upfront, which is helpful.
The Danby 7.2 cubic feet freezer is 39 15/16 inches wide and 33 1/4 inches in height. Although the measurement with the lid open to 90 degrees is just over 52 inches, so make sure you have enough clearance to open the top all the way. Also, the depth is 22 3/16 inches.
The legs roll and are adjustable for leveling. Also, you will find one adjustable basket for smaller freezer items.
Keep in mind this generous in-size black deep freezer is relatively large. With only one basket, you might consider either buying more baskets separately or upping your freezer organization game.
3. Commercial Cool 2.8 cu. ft. Upright Freezer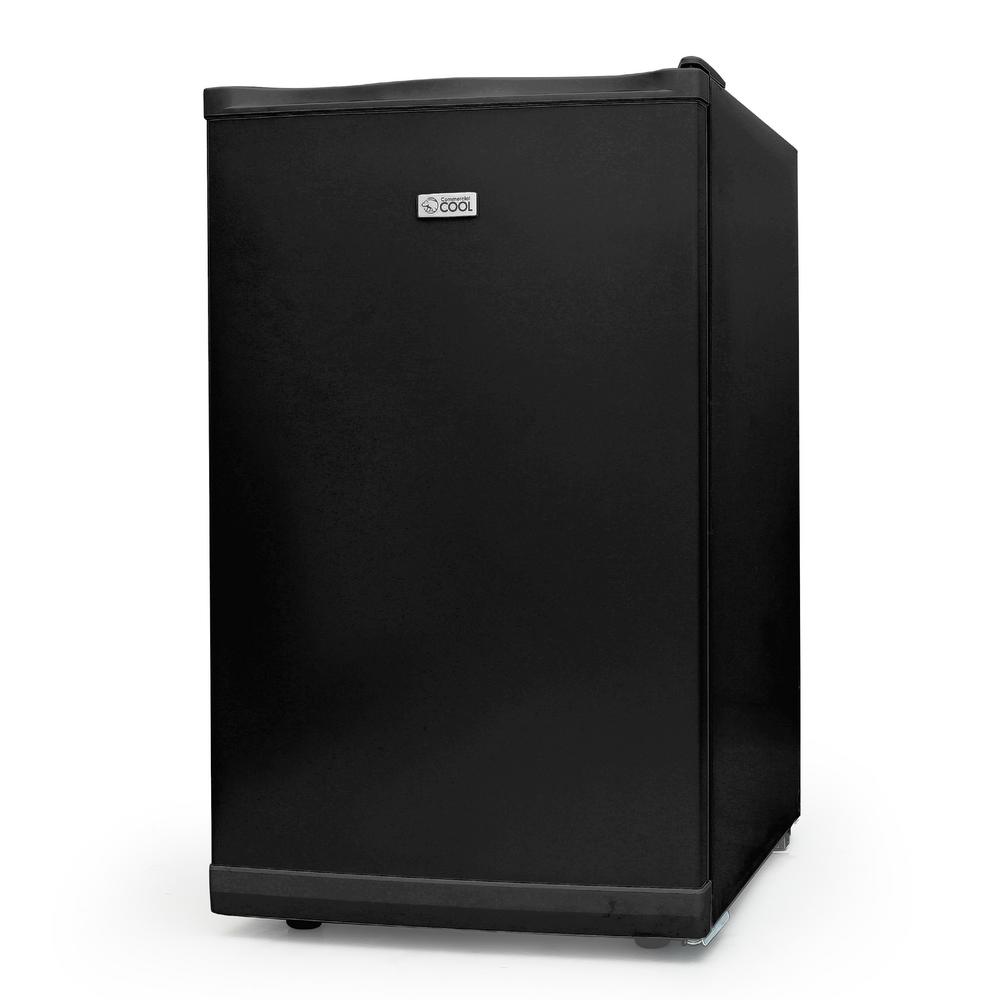 If you want an upright that does not take up a whole lot of space, consider the Commercial Cool 2.8 cubic feet option.
This versatile deep freeze has a reversible door, so you can switch which way it opens.
Also, there are three fixed shelves and the bottom of the freezer for storage. The black deep freeze includes an adjustable thermostat and legs you can adjust for uneven surfaces.
The width of this unit is 1.9 inches with a depth of 21.5 inches. Also, the height is 33.8 inches.
With the door open at 90 degrees, the depth is 39.37 inches.
This is an energy-efficient and smaller option for black deep freezers, but it is also affordable and might be the space-saving solution you need.
3. Northair Chest Freezer
No products found.
No products found.
If you need a chest freezer with extra storage baskets and other options, consider the Northair freezer.
This black deep freeze features four storage baskets that sit at the top of the freezer. The extra storage baskets help keep the small items or snacks upfront and handy.
Also, the lid holds open starting at 45 degrees to 90 degrees, which is handy if you do not have enough clearance and do not want the lid dropping on you.
The temperature control is located at the front of the unit, and the compressor is very quiet, making it ideal for indoor use.
This seven cubic foot freezer is 35.4 inches long, 32.9 inches high, and 21.8 inches wide.
Also, the drain for manual defrost is conveniently located at the front of the freezer, as is the control panel.
4. Coollife 5.0 cu. ft. Chest Freezer
No products found.
No products found.
If you want some of the features we just mentioned with the Northair freezer in a smaller size, consider the Coollife 5.0 cubic feet chest freezer.
The Coollife is a little smaller, so it has three hanging baskets instead of four.
Also, the hinged lid is balanced to stay open from 45 to 90 degrees.
The temperature controls and the manual drain are at the front of the freezer, and the unit has a quiet and energy-efficient compressor.
The freezer is 21.7 inches deep, 32.9 inches tall, and 27.3 inches wide.
The inside dimensions are around two inches to just under smaller on all sides due to the shell of the freezer.
5. Kalamera 3.5 cu. ft. Compact Freezer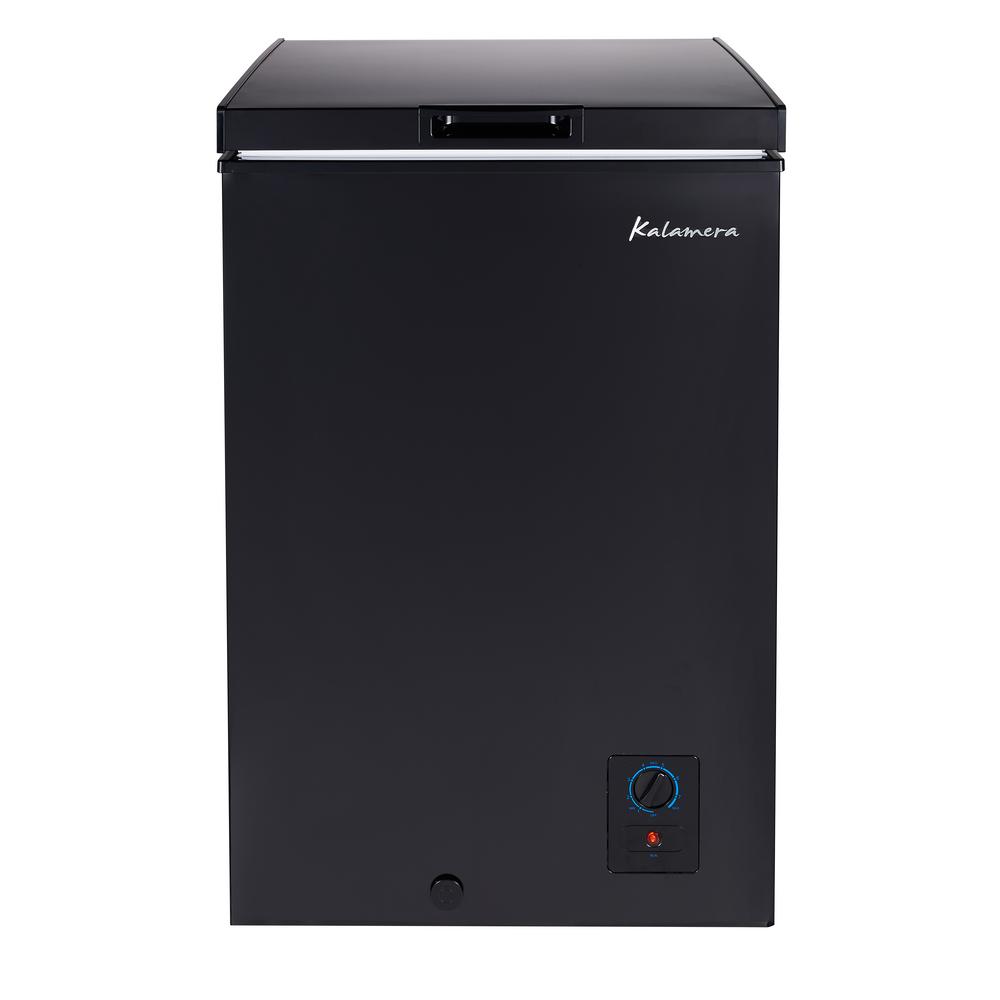 If you live in an apartment or a smaller living space but still need the benefits afforded by a deep freeze, the Kalamera Compact Freezer might do the trick.
This compact freezer is 3.5 cubic feet, and it is chest-style. It features one hanging basket that is removable and slides to the side for access to the bottom of the freezer.
The temperature control is a dial, and it is located at the front near the drain outlet.
Also, if you need a quiet unit, the Kalamera features a quiet compressor, making it ideal for small indoor spaces.
The height of this freezer is 54 inches with the lid open and 33.5 inches with it closed.
The width is 21.8 inches and 19.8 inches deep. However, allow three inches of clearance on the side for the air from the compressor.
6. Magic Chef 7.0 cu. ft. Chest Freezer
If you need a budget-friendly larger deep freeze, consider the Magic Chef 7.0 cubic foot chest.
This deep freeze is a chest freezer with ample space for you and your family. The interior has a built-in light, which is excellent when you find yourself digging for what you need.
Also, this freezer features sliding and removable hanging baskets. Also, like most freezers, there is a compression well on the inside.
There is a divider along the side in this freezer on top of the compression well, making this area a pocket for smaller items. The partition is removable, however.
There is a drain located at the front and bottom of the unit for easy manual defrosting. Also, there is a temperature control dial at the front.
This chest is 35.4 inches wide and 21.8 inches deep. The height is 32.9 inches.
7. Impecca 3. Cu. ft. Compact Upright Freezer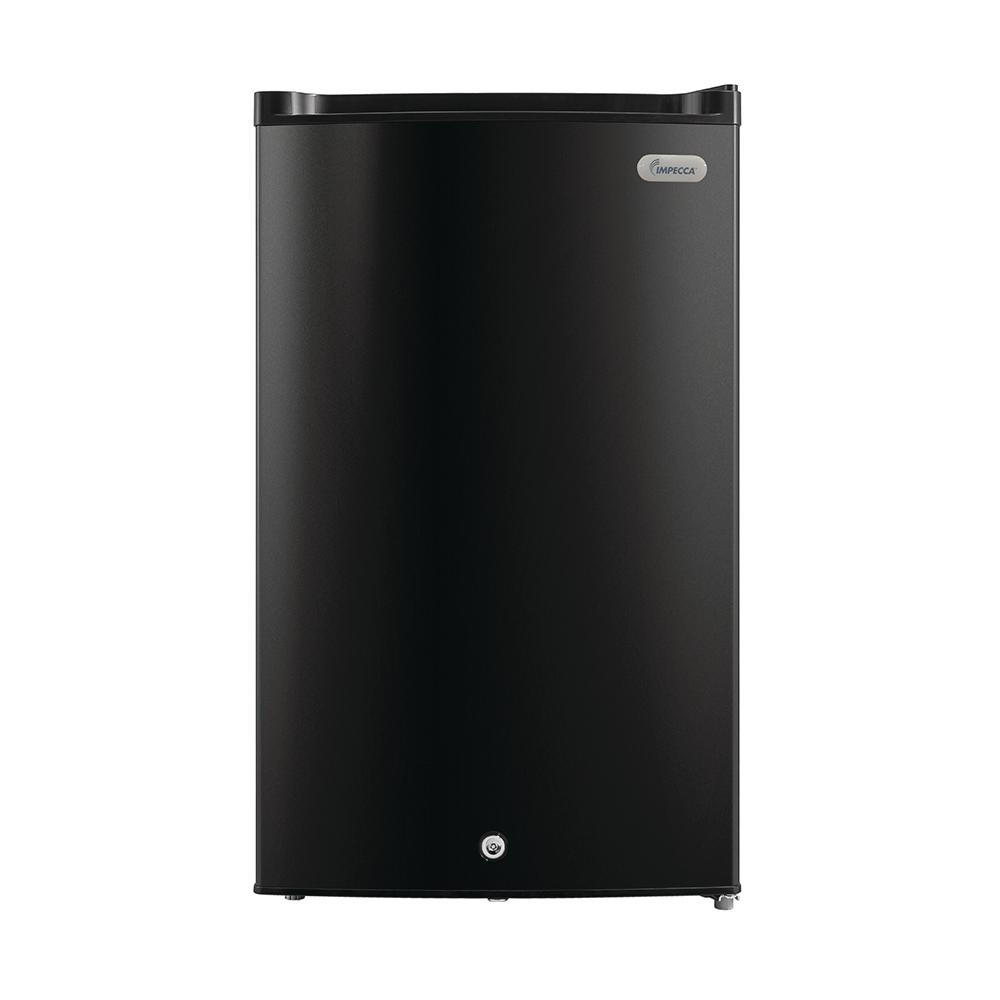 If you need a freezer and live in tight quarters like a dorm, consider the Impecca compact freezer.
This freezer is an upright freezer and looks similar to a mini-fridge. There is a roomy basket at the bottom and two shelves above for your storage needs.
The door's hinge is reversible, so it is easy to swap out if you need the door to open in a different direction.
The legs of this upright are adjustable for unlevel surfaces, and the temperature is adjustable.
The depth of this unit is 21.3 inches, and the height is 33.9 inches. The height, including the door hinge at the top, is 34 inches.
Lastly, this mini freezer has a lock, just in case.
8. Matrix Décor 1.1 cu. ft. Upright Freezer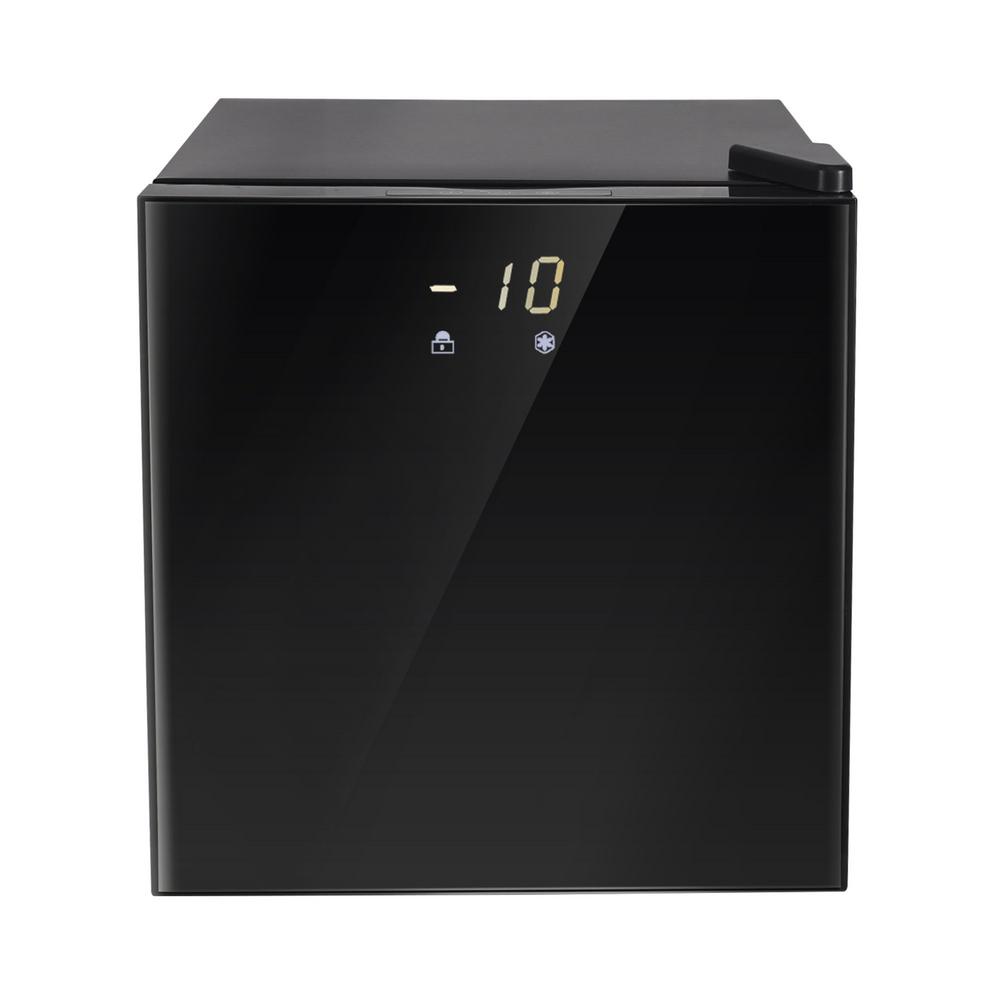 If you love the idea of a compact dorm-style deep freezer, but you want something smaller, the Matrix Décor 1.1 cubic feet freezer is a fantastic option.
This small deep freeze has some cool features. For instance, an automatic temperature lock is set up with a digital display to let you know the interior temperature.
The bottom of the freezer has a basket, and there is one shelf just above the basket.
This freezer has a manual defrost, and the hinge can swap to the other side if you need to door to open the other way.
The height of the freezer is19.62 inches, and it has a depth of 18.61 inches and a width of 17.52 inches.
Black Deep Freezer: Time To Shop
Before picking out a black deep freezer, you must first decide if you need an upright or a chest-style freezer.
Next, it is ideal to decide what size best suits your freezer needs.
Once you have an idea of what you are looking for, you will want to measure the space carefully you would like your black deep freezer to sit. Remember to give some clearance around the freezer for the air to circulate.
There are several options for deep freezers on the market ranging from large seven cubic feet upright and chest freezers to smaller ones suitable for a kitchenette or a dorm room.
What black deep freeze did you choose? Answer in the comments.
Last update on 2021-10-28 at 07:14 / Affiliate links / Images from Amazon Product Advertising API